Planning
[ Shelving, Bedrooms & Home Office Furniture. |Bedroom Shelves & Home Office Shelving. |Home Office Furniture. |Living Room Furniture. |Bedroom Furniture. |Children's Bedroom Furniture |Kid's Bunk Beds & Starterpacks |Decorating Kid's Rooms Ideas |home office furniture bedroom shelving |About SHELFSTORE Pine Furniture UK |Download our Brochure. |Adjustable Shelving & Storage Systems |Home Office Furniture UK |Decorating Ideas for Children's Rooms |Faqs: Shelfstore, Shelving, Bedrooms & Home Furniture Systems ]
How much space do you have?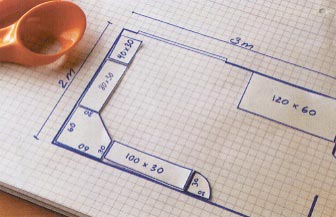 Draw your room floor plan on the planning sheet provided. Measure the space you want to use, always measuring the floor between the skirting boards.
How wide should the section be?

You decide the width(s) based on available space and what needs to be put on the shelves. A good idea is to cut out the shapes of the shelves that you wish to use and try different positions on your plan.
Build high or low?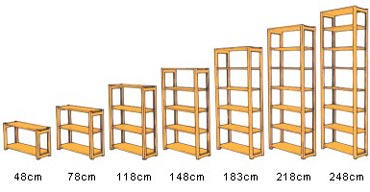 When choosing height (and it doesn't all have to be the same!) think about available room height, required space, can you reach and will everything fit on the selected height (combinations of doors, drawers etc!). Above is an illustration of the different heights that you can choose from. All come in 14, 18, 24, 30, 40 and 50cm deep.
How do you want to arrange your units?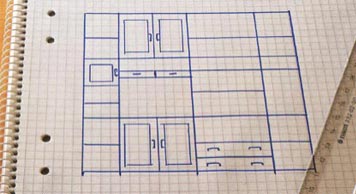 Starting with uprights and shelves, draw a simple sketch of the front of your arrangement. You can then add doors, drawers, etc.
What depth should you choose?
There are six depths to choose from: 14, 18, 24, 30, 40 and 50cm. Most books will fit on 18cm but larger books and files need 30cm. For wardrobes choose at least 40cm (once the frame for the doors is attached you get 51cm which is needed for your coat hangers).
How many shelves do you need?
You decide how many shelves are put into a section. There is 5cm between every hole in the uprights, except from the floor to the first hole, where there is 6cm. Each shelf is 2cm thick. Remember, it's easy to add another shelf at any time.
System dimensions

A single section of 80cm shelving is 83.5cm wide. Two linked 80cm bays are 164cm wide. Just add 0.5cm for each additional upright on a linked run of shelving.
SHELFSTORE guidance
If you are unsure about any aspect of your plan (will it fit, will the combination work, parts listing, etc), fax, e mail or post your plans and dimensions to us. We are happy to compile a parts listing based upon your plan.