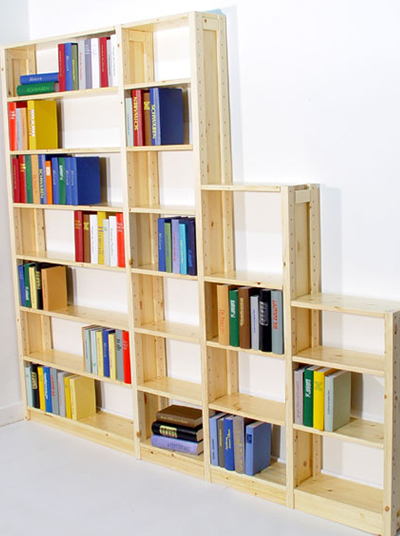 Multiple Depths, Heights and Widths
Our bookcases come in depths of 14, 18, 24, 30, 40 or 50cm, heights of 48, 78, 118, 148, 183, 218 or 248cm, and widths of 30, 40, 50, 60, 80, 100 and 120cm.
The Book Shelves You Need
You can decide how many shelves are put into each section of your bookcase, there is 5cm between every hole in the uprights, except from the floor to the first hole, which is is 6cm. Each shelf is 2cm thick so they are plenty strong enough to hold your books or anything else you choose to keep on them.
Adjustable & Secure Support
Our shelving has a unique support method. Steel shelf supports fit diagonally into the upright holes and the groove under each shelf. This means that the heavier the load the more stable the shelf. Position shelves where you wish on the uprights. Move a shelf, in 5cm increments, within seconds.
Quality Strong Pine
Unlike plastic systems each shelf is made from high quality pine and can hold up to 100kg, so you can rest assured your unit will last for years on end, even with large amounts of heavy books weighing around 30kg and covering 100cm.
Quick & Easy Assembly
When your bookcase arrives it will arrive flat packed, but unlike other flat packed furniture our bookcases are quick and easy to assemble so you have more time to decide what goes on them.